Tibetan Herbal Foot Soaks
A prescription of high quality, pharmaceutical grade herbs from Tibet and China are available in the clinic for foot soaking. They are grown organically, farmed and packaged straight to the clinic.
The herbs in this formula are designed to act synergistically to improve blood circulation. The actions and temperature of the herbs may produce similar results as going for a walk or exercising. This increase in circulation may help bring fresh blood to injured areas. Fresh blood brings oxygen and nutrients to work on the healing process.
For more detailed information, you can listen to a podcast on the history of and use and pharmacology of the Herbal Foot Soaks:
https://botanicalbiohacking.com/herbal-foot-soaks-2/
https://botanicalbiohacking.com/33-tibetan-footsoak-therapy-pharmacology-and-use/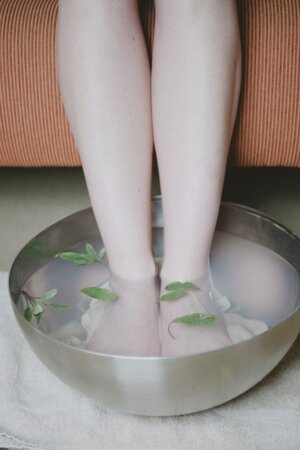 The foot soaks are an easy and convenient way to continue your healing treatment at home. Just 30-45 minutes of foot soaking for a period of time prescribed by your acupuncturist. A consult must be had before purchasing the soaks for an appropriate diagnosis to be obtained.
The foot soaks are not to be used for patients with metastatic cancer, patients who are pregnant, or who have open wounds/sores.
Ingredients:
Du Yi Wei (Sanguisorbae root),
Zang Chang Pu (Tibetan Acori Calami),
Zang Hong Hua (Tibetan Saffron),
Qiang Huo (Noptergium incisium root),
Ai Ye (Mugwort),
Sheng Jiang (Ginger),
Ku Shen (Saphora root).
A portion of the proceeds of foot soaks are donated to support the educational efforts of a Tibetan Orphanage.